Hush Technologies launch the Silent Mini-ITX PC
German Engineering: designed and built in Stuttgart, home of Mercedes and Porsche.
The birth of a new generation The next major challenge in system design has arrived with the launch of the first true silent solution for the VIA EPIA platform to hit the market. Enter Hush Technologies with their revolutionary Mini-ITX PC cases – aesthetically pleasing, yet functional and silent. "We had a desire to create what is required in many modern, demanding environments – a PC solution that was designed to solve the fundamental issue of noise. The Hush Mini-ITX PC is the first of a family of products to be born of this search. Our research indicated that silence leads to increased productivity, a better working environment, lower cost of ownership and longer shelf-life. It is as much at home in the office or the living room." commented Markus Kremer, General Manager of Hush Technologies. "Our customisable solutions have tremendous scope to revolutionise the way modern technology products are perceived in the home and in the workplace, and can fulfil various roles within the PC, home entertainment, audio and video market place". Our unique case fins design and intelligent cooling system achieves both an ergonomic and aesthetically pleasing solution as well as silence.

Quietly Revolutionary – Hush Technologies' innovative cooling system means no fan noise and fewer moving parts, resulting in a calmer more productive working environment.
Hush Technologies is a bespoke manufacturer of precision engineered PCs and cooling systems that work with people, not against them. Ergonomics, stability and silence are our watchwords and our focus is on case design, cooling systems and consultancy. Hush Technologies services industries and individuals where stability and silence are a priority, including the medical, media, domestic, architectural and creative arenas. The word in today's market place is 'choice' and bespoke solutions are the way forward. Hush Technologies provides the answer by managing the customer-supplier relationship from the early days of consultation, through the design, manufacture and customisation stages to the creation of the end product.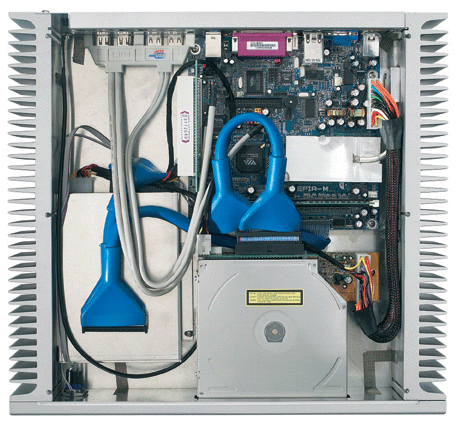 Technical Specifications
Hush Technologies Mini-ITX PC Technical Specifications:

Single Hard Disk Drive (upto 200Gb ATA133 IDE)
Slimline Drive Bay to accommodate a CD-Rom, DVD-Rom, CD/CDRW, CD/DVD/CDRW Combo or DVD Writer
Single slot PCI Riser Card for PCI Expansion
An EPIA Mini-ITX Form Factor motherboard from VIA Technologies Inc.
Memory (RAM) support dependant on motherboard – either PC133 SDRAM or PC2100 DDR RAM
External 55W Morex power supply PCB
Case dimensions (external) – 370mm wide, 340mm depth, 59mm height
The VIA EPIA Series Mini-ITX Mainboards are a revolutionary 17cm x 17cm platform optimized for today's killer digital video and audio applications, mini PC, Information Station, Information Server, and Broadband Gateway product lines. VIA EPIA Series Mini-ITX Mainboards are fully compatible with Microsoft® Windows ME/2000/XP and a variety of Linux-based operating systems. Available with an embedded VIA Eden™ ESP processor core for fanless, ultra-quiet systems, or an embedded VIA C3™ E-Series processor for more demanding digital multimedia applications, the VIA EPIA Series is the perfect platform for a whole range of small form factor, low-power digital media devices, corporate and educational PCs.

The VIA EPIA M Series features the new VIA Apollo CLE266 chipset with embedded MPEG-2 decoder and a new integrated 2D/3D graphics core, the VIA EPIA M-Series platform provides smooth DVD playback, and a rich overall entertainment experience. With the sizable memory bandwidth of DDR266 SDRAM and the high data transfer speeds of ATA/133, the VIA EPIA M-Series ensures the high performance levels required of today's most popular digital media applications. The user's digital media experience is further enhanced by support for 5.1 surround sound, courtesy of the onboard VIA VT1616 6 Channel AC'97 codec.

The latest in high-bandwidth connectivity is supported with IEEE 1394 and USB 2.0 connections provided, as well as S-Video and RCA TV-Out (NTSC & PAL) and 10/100 Ethernet for seamless broadband connectivity. The VIA EPIA M-Series also offers support for the latest LVDS embedded LCD panels, has one PCI slot for expandability options, and is compatible with a full range of Mini-ITX chassis as well as FlexATX and MicroATX chassis

.