Prolink announced new GeForce Titanium Series
Prolink announced its new GeForce Titanium series of Graphics Processing Units (GPUs). The PixelView GeForce3 Ti and GeForce2 Ti series of GPUs deliver breakthrough graphics technologies, each providing unprecedented levels of performance and visual quality. The new series of GPUs support DirectX8 and Programmable Shader Technology aggressively into the mainstream.
| | | | | | |
| --- | --- | --- | --- | --- | --- |
| Video Card | Fill Rate | Bandwidth Video | Memory | DirectX | TV-Out Resolution |
| PixelView GeForce2 Ti | 1 Billion | 6.4GB/sec | 4 ns 32/64 MB DDR | DirectX8.0 | 800 x 600 |
| PixelView GeForce3 Ti 200 | 2.8 Billion | 6.4GB/sec | 4 ns 64 MB DDR | DirectX8.1 | 1024 x 768 |
| PixelView GeForce3 Ti 500 | 3.8 Billion | 8.0GB/sec | 3.8 ns 64 MB DDR | DirectX8.1 | 1024 x 768 |
PixelView GeForce3 Ti 500 / 200
The newest members of the GeForce3 family- PixelView GeForce3 Ti 500 and GeForce3 Ti 200 - bring two new features to consumer desktop PC: shadow buffer technology and 3D textures. The shadow buffer technology closes the gap between PC gaming and cinematic style special effects for realistic, real-time shadows. The support for 3D textures allows developers to create an unlimited palette of visual effects, including the ability to make hollow objects solid, and adorn them with additional three-dimensional properties such as wood grain or marbling. These new features, combined with the programmable nfiniteFX™ Engine and Lightspeed Memory Architecture, deliver the most visually compelling and complete graphics experience available today. The GeForce3 Ti series is the reference platform of choice for Windows XP, as well as the technology foundation for the Microsoft Xbox™ game console.
GeForce3 Ti 500
Model No. : MVGA-NVG3T5A, MVGA-NVG3T5A(W/TV-Out)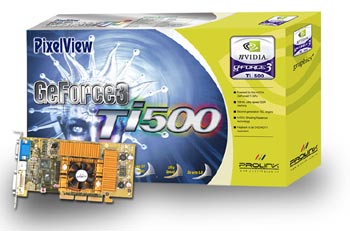 GeForce3 Ti200
Model No. : MVGA-NVG3T2A, MVGA-NVG3T2A(W/TV-Out)
PixelView GeForce2 Ti
Powered by the world's first real-time per-pixel shading nVIDIA GeForce2 Ti GPU, the latest member of GeForce2 family, PixelView GeForce2 Ti dramatically raises the bar for graphics performance offered at mainstream prices, nearly doubling the performance of similarly priced products. Major features of the GeForce2 Ti include a transform and lighting architecture delivering up to 31 million triangles/sec., a high-definition video processor (HDVP), and the NVIDIA Shading Rasterizer (NSR), ground breaking technology that enables per-pixel shading capabilities.
GeForce2 Ti
Model No. : MVGA-NVG2TA, MVGA-NVG2TA(W/TV-Out) MVGA-NVG2TAL, MVGA-NVG2T2AL(W/TV-Out), MVGA-NVG2T2AL(W/VIVO)