[>>]

[>>]

[>>]

[>>]

More>>

Search...
| | |
| --- | --- |
| General News | |

... 0 news stories awaiting approval
BIOSTAR RACING B365GTQ Micro ATX Motherboard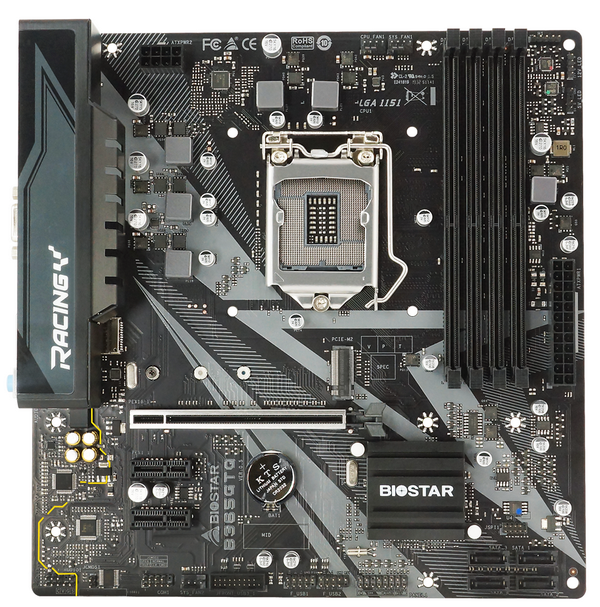 BIOSTAR, a leading manufacturer of motherboards, graphics cards, and storage devices, is proud to include a new micro ATX form factor to its latest generation of RACING motherboards with the BIOSTAR RACING B365GTQ. Built to last with durable components, this new reliable Intel platform is a dream motherboard for gamers looking for a compact solution, and for content creators needing something budget friendly that is capable to support high-end CPUs and graphics card. Sporting the edgy and futuristic look of the RACING series as well as an impressive set of advanced features, the RACING B365GTQ is certain to deliver great performance and hold a unique place in any build configuration.
The BIOSTAR RACING B365GTQ, equipped with the latest Intel B365 chipset, brings support for the 9th & 8th Generation Intel Core processors, a true game changer for today's gamers and content creators. In addition, the PCI-E M.2 32Gb/s support (with Intel Optane Technology Ready) gives the user rapid access to their games or software by improving the system boot time and boosting the bandwidth to their traditional stored devices. Equipped with USB 3.1 Gen1 (5 Gb/s) for an easy plug-and-play experience as well as faster transfer speed (compared with USB 2.0), the BIOSTAR RACING B365GTQ also supports HDMI 4K resolution for a better than life visual gameplay, and up to 64GB of DDR4 memory to give the user plenty of RAM to multitask while editing videos or creating 3D renders of complex parts.
The RACING B365GTQ sports a bold grey and black design with a futuristic heatsink to make every build a pleasant one to look at, and is paired with the LED ROCK ZONE which features an RGB 12v header and a digital 5v header. Combined with the VIVID LED DJ software, enthusiasts have full control over the customization of their system's LEDs, be it their fans, LED strips or memory modules, and can create a build unique to their style.
Give your gaming experience a boost with the Intel B365 Chipset and the 9th & 8th Generation Intel Core processor. The Intel B365 chipset provides you with the power and performance you need to outrun your opponents, get that first kill, and be at the top of your game.
PCIe M.2 32Gb/s is the latest storage interface, it delivers the highest bandwidth and lower latency. It is 3 times faster compared with PCIe M.2 10Gb/s.
Adjusting the color of LED and changing system colors by VIVID LED DJ gives users complete control over the process of PC modding, helping to develop their personal style. Users can fully customize the on-board LEDs, as well as the external LED devices such as LED strips, LED fans, and RGB LED memory modules.
BIOSTAR incorporates the Intel Optane memory technology to enhance the performance of your PC by accelerating traditional storage devices to reduce boot times and improve the overall performance without adding an SSD.
The BIOSTAR RACING B365GTQ rear I/O features: 1 x PS/2 keyboard port, 1 x HDMI port, 1 x VGA port, 1 x GbE LAN port, 4 x USB 3.1 Gen1 (5Gb/s) ports, 2 x USB 2.0 ports and 3 x audio jack.
The Killer AMD Threadripper Build You'll Love To Hate

We recently had the chance to spend some time with the folks at Maingear HQ and built a beautiful, water-cooled AMD Rzyen 3000-based rig. That system was destined for Dave's lab and has become his daily workhorse – in fact, that rig produced the video you'll see below. Not long after we took that trip to Maingear though, my personal rig started acting up. I have been rocking an Ivy Bridge-based system for about 7 years now that has made it through multiple OS upgrades and served me quite well. I had been planning to build a new rig for many months, but my current rig had been so reliable, and my personal and professional workloads so intense, I just couldn't pull the trigger. Well, my old rig decided to start randomly crashing and making some funky sounds (I think some caps need replacing on the mobo), and I've got a severe case of Maingear-envy, so the time for a new system was now...
Sapphire TriXX Boost Analysed – DLSS Killer!

Since AMD launched its Navi graphics cards almost two months ago, we've reviewed a couple of partner cards from Sapphire – namely their Pulse and Nitro+ models. While we focused almost exclusively on the hardware for those reviews, Sapphire has also created an interesting tool on the software side of things, which it calls TriXX Boost. In a nutshell, this lets you lower your resolution scale to increase frame rates while gaming, but offsets the lower image quality by enabling Radeon Image Sharpening.
Corsair Virtuoso RGB Wireless Review

The Virtuoso RGB Wireless Headset features a matched pair of precisely tuned 50mm high-density neodymium drivers which deliver 7.1 surround sound with a frequency range of 20Hz – 40,000Hz and it also boasts premium memory foam earcups as well as memory foam padding in the headband.
ASUS Prime X570-Pro Review

The X570-Pro tries to offer a balance between price and performance that their Republic of Gamers brand tends to exceed. Things like exotic LAN implementations and fancy board-wide RGB lighting has been omitted but powerful 14-phase VRMs and clever power-saving technologies have been employed.
SilverStone Raven RVZ03 Addressable RGB Case Review

In this review we will be looking at the SilverStone Raven RVZ03 ARGB. This case is based on the RVZ01 design with a slightly modified bezel design and inclusion of the SilverStone ARGB lighting controller.
Portable Encrypted Storage for the USB Interface

What do you do when you need portable storage that absolutely has to be encrypted and certified to various degrees? We take a close look at various options from multiple vendors to compare form factor, usability, performance, and encryption features alike.
Integer Scaling Explored: Sharper Pixels For Retro And Modern Games

At GamesCom, both Nvidia and Intel separately introduced updated drivers that could scale resolutions on the GPU using integer scaling. Integer scaling sounds pretty self-explanatory, and it is: the selected resolution is multiplied by whole numbers to fit the screen. For example, a monitor with a resolution of 2560x1440 can be filled with a 1280x720 image by doubling the height and width of the pixels. It looks kind of blocky to use as a Windows desktop resolution, but for the right kind of game, like retro or retro-inspired titles, it gives a razor-sharp edges to the pixels that make up the image on your monitor...
Fractal Design Vector RS Review

The Vector RS marks a change for Fractal by introducing a vibrant design to the mix. As its name suggests, Vector is all about sharp angles and striking lines. Tempered glass is featured heavily and a subtle but customisable ARGB strip stretches from the front of the chassis to the top.
ASRock Radeon RX 5700 XT Taichi OC+

The ASRock RX 5700 XT Taichi OC+ is the fastest factory overclocked Navi card we've tested so far. We measured it to run almost 2 GHz real clock on average in our real-life, mixed, gaming load. Temperatures are good, too, and the cooler includes idle-fan-stop.
Philips UpBeat SHB2505 Wireless Earbuds @ LanOC Reviews

Anyone who knows me would never consider me to be an overly active person. I'm white and pasty and well beyond overweight. But there are times you need to be an adult and slip outside and do some maintenance around the house. For me weakly that includes mowing the yard. This is also one of the only chances I have to put some music on my phone and toss earbuds in and jam. After moving I upgraded from a push mower to a riding mower, but one of the downsides of this has been issues with me pulling my earbuds out by the cord when driving and when driving around low trees. It's a big concern and frankly, mowers can be dangerous so I have been thinking about trying out wireless earbuds for a while. Well a few weeks ago Philips sent over their UpBeat wireless Earbuds and I have been playing with them. Today I'm going to take a look at them and talk about how they have worked for me. Let's go check them out!
Synology DiskStation DS1019+ 5-Bay NAS Server

Synology has always been my go to recommendation for anyone looking for a NAS server, and I can certainly add the DS1019+ to that long list of recommended products. The DS1019+ is very well made, the drives are easy to access and install, RAM is plentiful and is easily accessible, and the addition of M.2 NVMe slots for cache is a great feature. With the quad-core Celeron J3455 processor and 8GB of RAM, the DS1019+ is fast!
Samson G-Track Pro Microphone Review

"Designed as a versatile audio tool, the Samson G-Track Pro microphone packs quite a few features into its solid body. From its three polar patterns and on-board audio interfaces, to the sturdy base, the G-Track Pro looks to be a great option for streamers, podcasters, and musicians alike. We've taken a look at quite a few microphones lately, and have really come to appreciate the difference a dedicated microphone can make with regards to audio quality when compared to a traditional headset microphone. Let's see if the Samson G-Track Pro keeps with that trend."
Team Group Cardea II NVMe 1 TB SSD

Team Group announced its T-FORCE CARDEA II NVMe SSD boasting features like PCIe Gen3 x4 high-speed interface and a cooling module with "patented gaming fin design". We had the opportunity to test the 1TB model. The T-FORCE CARDEA II is an SSD with a storage capacity of 256GB / 512GB / 1TB.
Thermaltake ToughPower GF1 750W PSU Review

Thermaltake recently released a new range of 80 Plus Gold certified power supplies – called the ToughPower GF1. Many publications have been focused on the ARGB models, but we wanted to look at the plain GF1 750W model as its priced much more competitively. £99.98 is much easier to swallow than £134.99 for the ARGB version. Yes, thats £35 less if you can live without an RGB fan.
The best Guides by the best writers on the internet; PCSTATS Beginners Guides explain computers, software, and all those other wonderful things that cause you frustration.

Learn how to use your computer better, master the internet while protecting yourself, and know what to do when your hard drive kicks the bucket.



"Get the 'Stats and Stay Informed!"