Transmeta Efficeon Mobile CPU Series
---
In mid-October 2003, Transmeta introduced us to their next generation of mobile processors, the Efficeon family. Beginning with the TM8600 processor, the Efficeon line succeeds the Crusoe processor which is now at the end of its life. The Efficeon processor is a dedicated mobile processor, intended for compact applications where heat and battery life are the major concerns next to performance. In some respects the Efficeon is an evolutionary upgrade of the Crusoe processor architecture, but in other areas it breaks completely new ground, especially for a mobile chip.

The Efficeon was designed to prove that Transmeta still has what it takes to meet the challenge of Intel's successful Centrino chip. The Efficeon was in the works before the then-codenamed Intel 'Banias' was launched, but it has yet to have the same effect on the market. Recent years have seen much of Transmeta's long-battery-life thunder stolen by Intel's vastly improved mobile chips. While the (toasty hot) Intel Centrino has finally proven that consumers can have an Intel processor-based notebook with excellent battery life, had the world not first experienced the Transmeta Crusoe this mobile processor renaissance may never have even occurred...

Three models of Efficeon are currently available: The new TM8800, the TM8600 and the TM8620. The TM8800 is currently the most powerful, available in speeds up to 1.7GHz and built on a brand new 90nm process, while the TM8600 and 8620 top out at 1.1GHz and use a 130nm process. All three processors feature 128K of L1 cache memory and a full 1MB of level 2 cache. The TM8620 uses a smaller chip package for ultra-compact applications, while the TM8800 and TM8600 are identical in size. As of april 2005, the 130nm have been relegated to EOL orders only, and the company plans to only continue with its 90nm Efficeon's.

Efficeon Architecture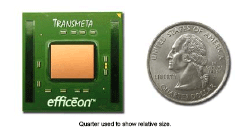 As the Efficeon is intended for the same mobile applications as the Crusoe, a lot of its development was focused on increasing performance based on a certain flat amount of generated heat, instead of designing a processor that was much faster and correspondingly hotter as would be the case in a typical desktop processor roadmap.
Transmeta also wished to increase the value of the processor to mobile system manufacturers by shrinking the amount of real estate that the processor and its subsystems (north and south bridge chips) take up on laptop motherboards, where space is obviously at a premium.
To this end, the Efficeon actually incorporates all the features of a typical northbridge chip right into the processor die itself. The AGP interface, memory controller, a Hypertransport link for connecting to the southbridge chip on the motherboard, and an interface for PC cards are all built directly into the processor. The Efficeon becomes the first processor to completely incorporate typical northbridge functions, though the Crusoe processor and AMD's Athlon 64 and Opteron processors came close by building the memory controller into the die.
The Efficeon, like the Crusoe processor before it, is not actually an x86-based processor like Intel's or AMD's products. Instead it uses a different internal logic, VLIW (Very Long Instruction Word) and uses a software layer to convert data from x86-designed software like Windows into code the processor can understand.
In effect this software, Transmeta's 'code morphing' engine, functions as a translator between the CPU and the rest of the system. This gives the Efficeon the twin advantages of flexibility (since the translation software can be customized for different applications) and efficiency since using the VLIW logic requires fewer transistors, and thus uses less power and generates less heat. Indeed, Transmeta's explanation of the Efficeon's name is that it will usher in a new 'eon' of efficient computing.
The evolutionary aspect of the Efficeon can be seen most easily in the essential doubling of its internal capability. The processor can handle 8x32-bit instructions per cycle as opposed to the Crusoe's 4, and is capable of handling Intel's SSE and SSE1 instruction sets, which the Crusoe did not support.
This should result in a substantial performance advantage over the Crusoe line, especially in multimedia applications and games. The Efficeon now offers support for DDR SDRAM at 333Mhz, or PC2700. In addition, the Efficeon supports the use of ECC memory, which potentially opens up the processor to the server market. The Efficeon has found a home in server blades where size and heat management are just as essential as they are in the mobile market. HP currently sells blade systems based on the Efficeon TM8600 processor.