[>>]

[>>]

[>>]

[>>]

More>>

Search...
| | |
| --- | --- |
| General News | |

... 0 news stories awaiting approval
BIOSTAR RACING B365GTA RGB LED Gaming Motherboard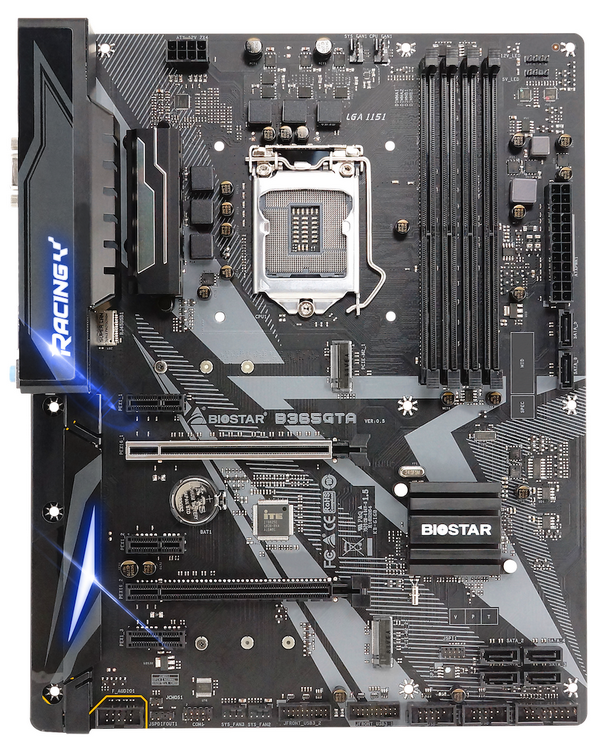 BIOSTAR RACING B365GTA. Built for gamers who want an A-Grade motherboard equipped with A+ gaming features, the RACING B365GTA is equipped with premium quality components that ensure professional level performance without compromising on durability. While remaining affordable, the new motherboard features a refreshing and futuristic new design that pushes the conventional norm, enthusiasts will be able to build a PC that outshines the others and set a new standard for PC design.

The BIOSTAR RACING B365GTA, equipped with the latest Intel B365 chipset, brings support for the 9th & 8th Generation Intel Core processors for the most modern features available on the market. Namely, PCI-E M.2 32Gb/s (with Intel Optane Technology Ready) for faster boot time as well as a bandwidth boost to your traditional stored device for rapid access to your game, USB 3.1 Gen1 support (5 Gb/s) for an easy plug-and-play experience with your external devices and faster transfer speed (compared with USB 2.0), and HDMI 4K resolution for a better than life visual gameplay. Up to 64GB of DDR4 memory spread over 4-DIMMs give the user plenty of RAM to multitask without compromise, and with such a bold grey and black design and futuristic heatsink, it is sure to make heads turn and eyes sparkle with envy.

Gives your gaming experience a boost with the Intel B365 Chipset and the 9th & 8th Generation Intel Core processor. The Intel B365 chipset provides you with the power and performance you need to outrun your opponents, get that first kill, and be at the top of your game. PCIe M.2 32Gb/s is the latest storage interface, it delivers the highest bandwidth and lower latency. It is 3 times faster compared with PCIe M.2 10Gb/s. Adjusting the color of LED and changing system colors by VIVID LED DJ gives users complete control over the process of PC modding, helping to develop their personal style. Users can fully customize the on-board LEDs, as well as the external LED devices such as LED strips, LED fans, and RGB LED memory modules. BIOSTAR incorporates the Intel Optane memory technology to enhance the performance of your PC by accelerating traditional storage devices to reduce boot times and improve the overall performance without adding an SSD. The BIOSTAR RACING B365GTA rear I/O features: 1 x PS/2 mouse, 1 x PS/2 keyboard, 1 x HDMI port, 1 x VGA port, 1 x GbE LAN port, 4 x USB 3.1 Gen1 (5Gb/s) ports, 2 x USB 2.0 ports and 3 x audio jack.
JumpSmart Vehicle Starter Power Bank

Recently we were contacted by Limitless Innovations about their JumpSmart Vehicle Starter Power Bank. All of the jump starters I have seen appear to have their designs rooted in your typical power brick. They are rectangular and add additional connections to accommodate the needed functions. The JumpSmart takes a different approach and started with roughly a flashlight shape and built the jump starting platform around that.
Corsair Virtuoso RGB Wireless SE headset

We review a premium headset from Corsair, the all new Virtuoso RGB Wireless SE ( as in special edition). The new headset is aimed at gaming and music-loving audiophiles. It's not just Corsairs most premium headset, it's even a bit of an experience really, this headphone will talk to you my man.
Killer Wi-Fi 6 AX1650 Review

Rivet Network's new Killer Wi-Fi 6 AX1650 wireless adapter is based on the same Wi-Fi 6 chipset and driver stack as Intel's own module, but on the software side, Rivet Networks amps things up with its own custom features, tweaks, and technologies. What some may find surprising is the lack of a significant markup on the Killer bundle, despite the advantages it offers over vanilla solutions...
PowerColor Radeon RX 5700 Red Dragon

Priced at $360, the PowerColor RX 5700 Red Dragon is an amazing factory-overclocked custom-design for AMD Navi. Despite its dual-slot cooler it runs very quiet, with good temperatures, and has idle-fan-stop, too. A second "quiet" BIOS lets you dial down noise levels even further, making the card whisper-quiet.
Kingston KC2000 NVMe SSD Review: Competitive Pricing And Performance

Kingston recently expanded its portfolio of solid state drives, with a new family of products targeting high-performance desktop and workstation applications. The Kingston KC2000 series of drives feature a PCI Express Gen 3.0 x 4 controller, 96-layer 3D TLC NAND flash memory, and boast of peak transfer speeds north of 3GB/s. The drives are offered in an array of capacities, ranging from 250GB all the way on up to 2TB, and support a number of security-conscious features as well...
SK hynix Gold S31 1TB 3D NAND 2.5 Inch SSD

SK hynix may not be a household name in a large part of the world, but they have been around for decades and have most likely provided memory chips for a good number of products you have used. With this review we are looking at something different, as it is an SK hynix branded SSD that uses all SK hynix manufactured components, including the 3D NAND flash storage chips, the drive controller, and the DRAM memory.
Corsair Virtuoso RGB Wireless

Corsair just released a new line of high-end gaming headsets. The Virtuoso RGB Wireless is the company's best and most complete gaming headset to date, offering fancy looks, good sound quality, excellent battery life, great versatility and the best wireless headset microphone yet.
Flashing a Radeon RX 5700 to 5700 XT

In addition to our launch day reviews of the Radeon RX 5700 and 5700 XT, we followed up with extended comparisons, overclocking, and more. Most recently enthusiasts have gone further though, by tinkering and flashing vanilla RX 5700 cards with 5700 XT BIOS, making them instantly faster at no extra expense. Sounds like a really good deal.
Fitbit Charge 3 Fitness Activity Tracker

Fitbit, Inc. is an American company headquartered in San Francisco, California that produces activity trackers; wireless-enabled wearable technology devices that measure data such as the number of steps walked, heart rate, quality of sleep, steps climbed, and other personal metrics involved in fitness. Today we are going to be taking a look at one of their mid-tier trackers: the Fitbit Charge 3.
Patriot P200 1 TB

Priced at just $89.99 for the 1 TB version, the Patriot P200 is the perfect solution for users wanting large affordable storage to keep all their games on SSD. Even though it's based on TLC, sustained write performance is amazing and there is no visible speed drop.
ASRock Radeon RX 5700 XT Taichi OC+

ASRock is going a bit more premium with their all-new Radeon RX 5700 XT Taichi, in specific we test the OC+ edition. It has the best clocks, new looks, and silent acoustic levels. Fabricated at a 7nm node and capable of battling with NVIDIA's GeForce RTX 2060 and 2070 we'll check out how well it holds against the reference card as well.
Apple iPhone 11 Pro Review

Today we are looking at the latest flagship phone from Apple – the iPhone 11 Pro. With prices starting at £1049 for the 64GB model, we know that the top-end iPhones are up there with the most expensive smartphones money can buy. With this new iteration, Apple has implemented a new triple-camera system, an updated Bionic processor and significantly increased battery capacity. Is this the best phone around?
BIOSTAR RACING X570GT Micro ATX Motherboard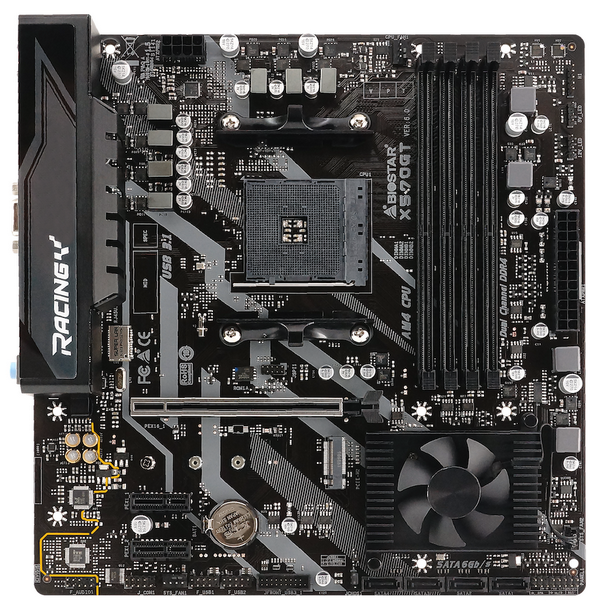 BIOSTAR, a leading manufacturer of motherboards, graphics cards, and storage devices, is proud to launch the latest addition to its 4th generation of RACING motherboards with the compact yet very capable BIOSTAR RACING X570GT. Aimed at gamers who don't want to compromise on their gaming experience and overclockers looking for that extra push of performance, the RACINGX570GT is the motherboard that supports a lightning-fast and ultra-responsive gameplay experience. The RACING X570GT is tastefully designed with the iconic RACING Gen 4 features and grey lightning strikes that give the users the competitive edge needed to defend themselves in the gaming world.
The BIOSTAR RACING X570GT, equipped with the latest X570 chipset for AMD socket AM4, brings support for 3rd Gen Ryzen processors, and provides PCI-e 4.0, which doubles the bandwidth of PCI-e 3.0. It also supports 4-DIMM DDR4. In order to provide the user with the best compact gaming machine possible, the RACING X570GT also features USB 3.1 Gen1 support (5 Gb/s), PCI-e M.2 4.0 support (64 Gb/s), as well as HDMI 4K resolution. And with overclockers in mind, up to 128GB of DDR4 memory spread over the 2-DIMMs can support overclocks of 4000+MHz for unparalleled responsiveness.
AMD X570 is the high-end chipset for overclockers and tweakers who need a robust platform. This chip provides the ultimate low-level control to its users and delivers ultimate graphics card bandwidth. PCI-E 4.0 is the next evolution of the ubiquitous and general-purpose PCI Express I/O standard. At 16GT/s bit rate, the interconnect performance bandwidth is doubled that of PCI-E 3.0, while preserving compatibility with software and mechanical interfaces. PCI-e M.2 4.0 is the latest storage interface, it delivers the highest bandwidth and lower latency. It's two times faster compared with PCI-e M.2 3.0. DDR4 Memory delivers higher performance, higher DIMM capacities, improved data integrity and lower power consumption. Raising up to 128GB the maximum capacity and 4000+(OC) MHz of DDR4 memory for multi-applications and better performance. The BIOSTAR RACING X570GT rear I/O features: 1 x PS/2 Keyboard/Mouse, 1 x HDMI Port, 1 x VGA Port, 1 x GbE LAN port, 4 x USB 3.1 Gen1 (5Gb/s) Ports, 2 x USB 2.0 Ports and 3 x Audio Jack.
The best Guides by the best writers on the internet; PCSTATS Beginners Guides explain computers, software, and all those other wonderful things that cause you frustration.

Learn how to use your computer better, master the internet while protecting yourself, and know what to do when your hard drive kicks the bucket.



"Get the 'Stats and Stay Informed!"